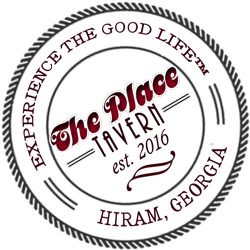 Established in Hiram, Georgia in 2016
Established in 2016, The Place Tavern is the food and beverage social destination in Hiram, Georgia.  We offer a full menu consisting of appetizers, burgers, sandwiches, dinner entrées, and desserts from 11am to close.  If you have a late-night desire, we feature a late-night breakfast menu every day from 10pm to close. So, come in and try our famous Tavern omelet or our steak, eggs and home fries meal.
In addition to our delicious food, our social beverages are to die for!  We feature a full bar with service from the dining room, the inside bar and the walk-up patio bar window.
We know that you will love meeting friends at The Place Tavern after work for a social beverage, sharing some starters from the kitchen, or grabbing dinner on a lazy Sunday.
We look forward to seeing you soon!